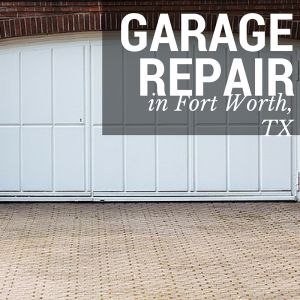 If you have a garage door, you will need a Fort Worth garage door repair company at some point in the future. Hopefully, you will not need to make your first visit an emergency repair call, and instead can get to know us in advance. We make it a priority to prevent costly repairs that could have been prevented with maintenance, but our real job is to give you the best services for the lowest costs. To get a better idea of other traits you need to see with garage door repair Fort Worth TX professionals, keep reading.
Giving you an edge with garage door apps and security systems
Do you ever feel like you wish you could call on the spirit of Steve Jobs to help you get an app to work? One of our favorite parts of the job in modern times is getting a call from someone who needs help with their garage door and their smartphone. Smartphones are quickly replacing some of the technology used with garage doors and security systems in businesses or homes. Regardless, some people simply feel comfortable when a professional is at their side to help them install the software and get it working correctly the first time around. In other words, when you need a friend in the garage door world that can make your smartphone work as your garage door remote (without spending hours feeling frustrated because you do not know what you are doing), we are happy to help.
Knowing when to make a repair instead of a replacement
There is nothing worse than garage door repair professionals that try to make an extra buck by getting you to replace something instead of repair it. In some cases, the owner of a garage door will actually need to replace all of the components because the cost of repairs and parts exceeds replacement. Nevertheless, we know several tips and tricks that can get you the results you need without the extra costs. For example, if you want a high-tech garage door opener that works with your new security system and app, this does not mean that you need to replace everything, but some cost will be expected. This is especially true if your system is older than 20 years or is on the list of banned garage door openers.
Putting your safety in first place
One of the reasons that many homeowners call us is due to the fact that we have noticed something unsafe about their garage door when we were passing by, and we dropped one of our business cards in the mail with an explanation. Sadly, when you are a professional in the garage repair business, noticing a door that is unsafe is a priority for us because we know the types of fatalities that can be caused by a poorly functioning door. Although some garage door repairs are intensive, many of the tasks required to keep a garage door safe only take a few minutes and the right tools.
Offering you advice that saves you money
We want our customers to always feel we are cutting them the best deal, and we often find ourselves giving advice to prevent our customers from needing to spend money in the future. For instance, we offer inspection and maintenance services a couple of times a year for anyone that feels they cannot do those tasks themselves. Alternatively, if we know a family is strapped for cash but able-bodied, we know we can show them how to clean their own garage door tracks and test to make sure the rubber seal is snug against the concrete floor.
Helping you understand what you already have
Does your current garage door opener seem old, but it has lost the manufacturer's labels that give you a way to research it online? When you have knowledge about the types of equipment that operate your garage door, you can make certain decisions for yourself by researching it online. Sadly, many new homeowners find that they have a lump of machinery in their garage that they simply do not know what to do with — even if they know the make and model. Whether you are experiencing a garage door for the first time or want a better idea of what to expect with the equipment you already have, we are happy to help with any garage door information you may need.
Call Texas Overhead Door for your garage door repairs and maintenance!
When you need Fort Worth garage door repair, maintenance, replacement or inspection services, Texas Overhead Door is here to help. In addition to helping businesses with their garage door needs, we welcome homeowners to use our garage door repair Fort Worth TX technicians to help your home stay efficient. Whether you need emergency services or simply want to schedule an appointment, we are just one phone call away. To get started, contact us today, and we thank you in advance for choosing us.