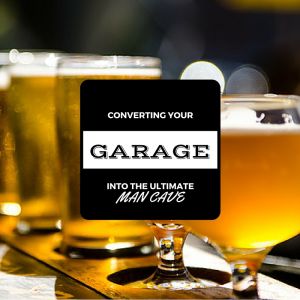 The notion of the man cave has obvious appeal to males, since it offers a place that they can escape to when they have free time. It might involve playing games, listening to music, watching television or something else that can done alone or with friends.
Of course, finding a place in a home can be difficult, since a basement (which tends to be the usual location) may not be available. However, one option to counteract that issue might be to use the garage as this home away from home, since it figures to get maximum use, especially if things are done right.
Cleanliness is Next to Fun
One of the first steps toward making this scenario a reality is to get things cleaned up, since garages can often serve as a dumping ground. Also, messy fluids such as oil and transmission fluid end up on the ground, since the standard use of this new room is to house vehicles.
Determining How Much Space is Available
Knowing just how much space you have can play a key role in determining how much furniture you'll need. Also, if this is a place where you and your friends will regularly congregate to watch sports or other events, then finding comfortable items to sit on for everyone needs to be addressed.
Let There Be Light
Depending on how much a garage was used in the past, there may or may not be lighting currently in place, or there may be only a single light. That dark atmosphere doesn't lend itself to a welcoming presence and can make it difficult for you or your guests to enjoy such things as a weekly card game.
Recessed lights tend to be popular, though others prefer pendant lighting. However, in either case, it may be best to have a professional electrician handle this task, given the potential dangers involved.
Flooring Concerns to Consider
Garages are generally built for convenience, not comfort, so most have a concrete floor. That can create uncomfortable surroundings, so it's best to think about having a floor finish placed on top of the concrete. That not only elevates the aesthetics but also makes it easier to consider adding carpet to enhance the comfort level even more.
The Importance of the Garage Door
Given the often torrid summers that are a part of every Texas summer and the severe storms that can bring heavy rains, strong winds and even snow, it might be time to consider a new garage door that's insulated to protect against such issues. For example, there are overhead doors Fort Worth residents can choose from that will offer a more climate-controlled option.
In the event you already have such protection, the possibility exists that it might need some garage door repair. That's because problems can inevitably occur with different areas, such as tracks that are out of alignment, the door won't move up or down or the springs are in need of some maintenance or replacement.
Protecting Important Items
Some garage door repair or a new garage door might also be a necessity since the aforementioned insulation can be vitally important if you're using high-priced electronics like a wide-screen television or are displaying valuable memorabilia.
The temperature swings that were noted above can quickly damage such items, which effectively defeats the entire purpose of having a man cave. After all, this will be a source of pride, so there's no sense in overlooking these areas.
The Best Choice
So if it's time for a new garage door or for some garage door repair work, contact the professionals at Texas Overhead Door to do the job right. Their status when it comes to installing the overhead door Fort Worth residents trust has been evident for the last three decades. Contact us today!