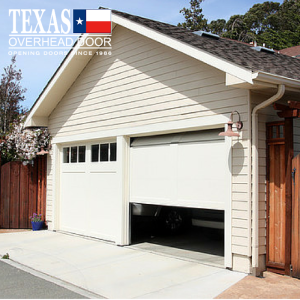 Determining the most valuable component of garage door openers is something that's hard to pinpoint for the average consumer. Some value the ease and comfort it provides when inclement weather strikes and leaving the car is an uninviting prospect, while others put a greater emphasis on security features that come with a specific model.
Any number of other considerations might be invoked, but regardless of the sentiment, having access to the best garage door openers that money can buy is something that these individuals cherish. Therefore, acquiring all the necessary information to make the right choice is invaluable.
Different Systems Available
Residents of the North Dallas area and beyond generally have three options when choosing a system for their opener that fits their needs. Each of them offer their own enticements, but the ultimate choice will inevitably focus on just one of those aspects.
Screw-Drive
Those who decide that a screw-drive system is what they want enjoy the fact that the few moving parts that make up the mechanism don't require a great deal of maintenance. The door moves up and down via a threaded steel rod, but the main issues stem from the fact that it tends to move more slowly than other types and is also more noisy. That latter fact may be a consideration late at night or with those who simply enjoy peace and quiet.
Chain-Drive
The chain-drive system has its champions, primarily due to the fact that these are the least expensive types of openers. That chain needs to be cleaned regularly, since all types of debris can accumulate on it that creates problems.
In addition, the possibility of some of the hardware attached to the opener coming loose is a potential issue. This can create problems like the door moving in intermittent fashion, reversing on contact or the lifting mechanism becoming disengaged. Still, in the case of a Liftmaster garage door opener, such concerns are very much minimized.
Belt-Drive
In contrast to the other two types, the belt-drive option is one that's becoming more popular with each passing year. The reason for that growth is that it possesses the strength to handle the heaviest of garage doors, something that offer peace of mind for those who looking at garage door openers from a security perspective.
Another area in which the belt-drive differs from its competitors is in the area of noise. Despite the strength it possesses, the overall operation comes across as one that offers a severe contrast to the others because of the quiet nature of the opener when it's in use.
Working in Adverse Conditions
Given the brutal heat that is a part of every Texas summer and the high winds that can develop during other parts of the year, weather conditions can sometimes take a toll on garage door openers. These conditions can also lead to issues like power failures, which can render some openers useless. Therefore, it makes sense to invest in an opener that can keep working, no matter the conditions.
A Body of Work
Some of the best garage door openers on the market today may seem as a more credible option if someone is looking only at the price. However, if the history behind the product offers only scant evidence of its value, the homeowner is taking a big risk when investing their money in that product.
Looking for a company that's been around for decades and continues to grow helps alleviate any concern that with regard to any issue, that company will still be around to handle the problem. This is especially true when it comes to guarantees, since companies that are still around to live up to a lifetime warranty stand above their competitors.
Word of Mouth
One of the best ways to get a good feel for a company is to talk with neighbors or friends about what they have and their feelings on the value it brings. They'll be able to point you in the right direction when it comes to finding the right local company to handle the job.
A Viable Option
A Liftmaster garage door opener is a clear option that considers all of the above concerns. They've been around for more than a half-century and have the most updated technology on the market. That technology is advanced enough to use a computer, smartphone or even text message to open and close a door, and also turn a garage light on and off.
Texas Overhead Door is on the cusp of beginning its fourth decade in the North Texas market and strongly recommends the Liftmaster garage door opener when it comes time to consider the best garage door openers available. Contact us today with any questions you have or to see what Texas Overhead Door can do to transform your garage.