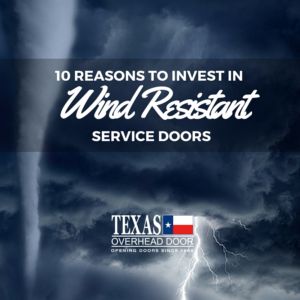 If there's one thing that Texans have learned to expect when it comes to weather conditions, it's that high winds will be an ever-present danger. The damage that can result during inclement weather conditions can wreak havoc not only for homeowners but businesses as well.

When there's a conflict about choosing between commercial doors or wind resistant service doors, your business needs to take a number of factors under consideration when choosing the type of door they want. Listed below are 10 reasons why the wind resistant variety makes sense:
Stronger Protection
The standard service door can protect against normal weather conditions. However, these versions are lighter and not much help during major storms that approach hurricane-level winds. That leaves any business vulnerable to major damage, something that doesn't occur with the wind resistant model.
Dodging Damage
The reason for that vulnerability is that if that standard door comes crashing down, it leaves the inside of the building open to those winds. In addition, potential flooding will have an easy path inside that could ruin equipment or inventory.
Avoiding Building Devastation
That sort of force can also end up either blasting the walls out or the roof off, simply from the force of the wind that's being delivered. That magnifies every other previous concern since the entire building could come crashing down without such protection.
Protecting Against Possible Debris
If those circumstances aren't frightening enough, the possibility of wind-blown debris being sucked inside surges. At that point, there's little anyone can do to prevent potential major damage and puts anyone inside in mortal danger.
Avoiding Life-Threatening Danger
Any individuals who are unfortunate enough to be inside could perish. Such winds are capable of blasting through regular commercial doors, with the glass variety making things even more dangerous for anyone around them.
Business as Usual
Having wind resistant service doors in place allows a company to avoid the nightmare of dealing with major repairs and downtime that can negatively affect the future of the business. The sturdiness of these doors are such that any battering by the wind stops at those doors.
Possible Insurance Benefits
The ability to avoid taking a major financial hit certainly will please your insurance agent, which may help reduce premiums against such dangers. Investing in these types of doors are one example of paying now so that you don't have to pay later.
Adapting to Building Codes
Given the changing nature of storms and the way that jurisdictions deal with them, the possibility exists that your doors might be judged to be lacking in minimum protection capability. Ones that can resist wind to this extent will undoubtedly be able to fit the bill.
No Drop in Aesthetic Appeal
Just because these doors are fortress-like in the way that they offer protection doesn't mean that the visuals involved will offer an unappealing look. That's because there's a number of different options to choose from, each of which can blend in with the style of your building.
Peace of Mind
All of the thoughts that go through a business owner's mind as such events are taking place can ratchet up stress levels. However, having this in place helps ease concerns about what a company may be facing in the aftermath of such dangers.
Making the Right Choice
Taking all of these factors under consideration, there seems little reason to debate the validity of installing wind resistant service doors over commercial doors. Therefore, contact Texas Overhead Door to get the ball rolling.
One Response to "10 Reasons Why Your Business Should Invest In Wind Resistant Service Doors"