Commercial Overhead Door Contractor
Houston, Texas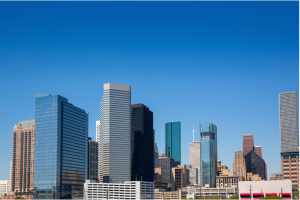 As one the fourth largest cities in the country, Houston is major hub of industry, rich with culture and history. A buzzing metropolis on the Gulf Coast, Houston is home to three major league sports teams and wide variety of restaurants.  It's great place to work, live and play. That's why so many business owners decided to open up shop here. Texas Overhead Door has been helping Houston businesses protect their inventory and maintain security with our rolling steel doors since 1986.
Deter Store Theft with a Rolling Steel Grille
With a city this busy, worries about theft after you close up shop are only natural. Fortunately you can secure your business with a rolling steel security shutter.  But don't trust your business's security to inexperienced technicians. Texas Overhead Door has the knowledge, experience and tools to make sure your shutter is properly installed. You can rest assured that your rolling steel grilles or shutters will deter theft after hours.
In addition to protecting storefronts, we also offer loading dock doors, service entrance rolling doors, pharmacy and counter/kiosk security shutters. We also offer repair & maintenance on your existing overhead door. View our full line of commercial overhead doors.
Texas Overhead Door serves clients throughout Texas, including Houston. Contact us to learn how we can help protect your business. Call 800-715-8781 or contact us online.