Our pharmacy doors aren't just for pharmacies, they're great for many other retail applications as well, including concession stands, food counters, press boxes, stadiums, and more! Our company offers the highly functional, dependable rolling shutters and counter doors to help secure your merchandise.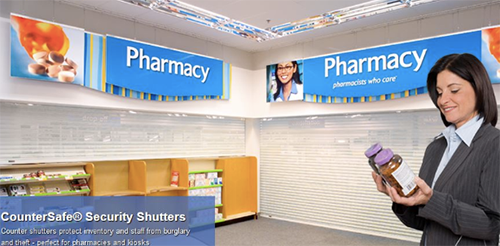 Retail Pharmacy Doors from Texas Overhead Door
While you already know that pharmacy drive-thru windows, counter shutters and door shutters help keep your products safe, you might not realize that they are also unobtrusive and simple to operate. Our rolling counter shutters provide a security barrier that is quick to deploy when there is a threat, providing peace of mind for both business owners and employees. Other features of our retail doors include:
Low maintenance and sleek appearance
Quality engineered
Cost effective
Proven protection
Easy to use, quick to deploy
Reduce break-ins
Solid or punched styles
Several colors options
Wind & Impact test approved
Many more!
Give us the specifics and we will get the best retail counter doors and shutters ordered and installed for you.