Texas Overhead Door's pit levelers are an efficient option for loading docks. Our loading dock levelers reside in a recessed concrete opening at the docks door and of those there are 3 types of levelers, so you can pick the best one for your dock. The three sub-categories are:
1. Mechanical Pit Levelers
Loading Capacities range from 20,000 lbs. to 50,000 lbs.
Widths range 6' to 7', but we also offer custom lengths as an option.
Mechanical levelers deliver an excellent value for the price. Our mechanical levelers are the highest quality for the lowest price.
The "Poweramp System" once permanently installed in pre-formed pits is operational by pulling and holding ring at rear of ramp, unit will raise and lip will extend and hold, therefore no manual lifting is required.
Powered by extension springs and guided by "CamControl" counter balance assembly, therefore no electrical power supply is needed.
Several features of our mechanical dock leveler include:
Night locks/cross traffic support
Protective Rubber Bumpers
Lip Drive Positive Lip Extension
Box construction Deck Assembly
Multi-position Structural Steel Safety legs
Over 25 optional features available.
Call for prices and be sure to ask about our Protection Plan Program.
2. Hydraulic Pit Leveler
Performing well under larger capacities, we offer several choices of hydraulic loading dock levelers that are versatile and designed for high-productivity. Each "Pit-Series" steps up your capacity, all the way to 50,000 lbs, while maintaining ease of operation.
Performance features include:
Simple Push Button Control
Low Maintenance Design
Full Range Toe Guards
Night Locks
Four-sided Box Construction
Full Hydraulic Lip Activation
Dock Bumpers
Cross Traffic Support
Common Options Available Include:
Advanced Operator Control
Extended Lip sizes
Foam Insulated Deck
Light Communication Packages
Dock Light
Integrated Control Systems
Automatic Return to Dock
Weatherseal (brush or rubber)
Vehicle Restraint
3-wheel Forktruck Protection
If you're not sure which loading dock leveler is right for your situation, our staff is waiting to assist you to help you make the best choice.
3. Air Pit Levelers
Texas Overhead Door has the most innovative loading dock levelers in the market. Our Safe Air Power loading dock feature moves the loading dock to the trailer, thus reducing service and maintenance calls. Pneumatic air bags raise and lower the deck with smooth fast control. Starting at 6' to 7' inch width (or modify to your specific needs), you will have years of service with our Air Pit Levelers. From 25,000 to 50,000 lbs., the capacities are handled easily with just the push of a button. Other features of our dock levelers include:
Multiple Position Safety Stop
Night Locks
Simple Push-Button Control
Full Range of Toe Guards
Automatic Lip extension
Cross Traffic Support
Low Maintenance Design
Two Laminated Bumpers
We've got many air pit leveler options available, including:
Assured Motion Float (full length contact between lip and truck bed)
Seals and Shelters
Dock Lip Barrier
Three Wheel Forklift Center Deck Support
Ask about any updates in options.
We Also Offer Vertical Levelers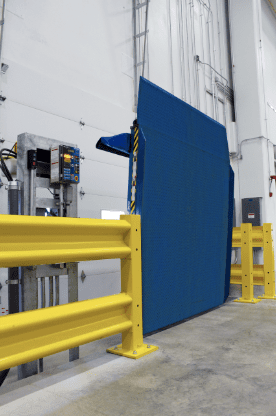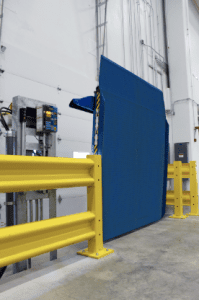 Why? So, you can close your doors onto concrete and not the dock leveler. Wash-down applications, reducing dust, rodents and to reduce your energy cost. Smooth transition into trailer-beds. Hydraulic operated. Other features include:
Meets high climate control & high cleanliness requirements.
Reduces damage to doors.
Reducing dirt, dust, and rodents.
Reduces energy costs.
Optional exterior traffic lights.
Optional foam draft pads.
Complete power pack system – removing water damage risk.
We also offer a variation of the Vertical Leveler – the Rail Dock Leveler – specifically for rail cars loading and unloading. This unique leveler is mounted on sliding rails so they can move along the rail track. It's hydraulic operated and boasts a strong and reliable performance.
Invest in Loading Dock Levelers from Texas Overhead Door
If you invest in loading dock levelers from Texas Overhead Door, you will have access to some of the most advanced loading dock levelers and that will reflect in the increase of efficiency and decrease of downtime on your loading dock. If you're interested in learning more about our dock levelers, feel free to contact us with any questions!