Rolling Steel Doors New Orleans, Louisiana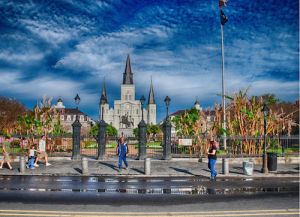 New Orleans is known around the world for it's annual Mardi Gras celebration and French heritage. It's host to the New Orleans Saints & some of the best food in the country. Being on the Gulf Coast, it's also prone to hurricanes. Business owners in Louisiana know the damage a hurricane can cause, and how prone an unprepared business can be to theft in the aftermath. That's why so many businesses in New Orleans count on Texas Overhead Door to secure their storefront with rolling steel security shutters and doors. Since 1986, we've been helping New Orleans business maintain security and protect their inventory .
Protect Your Business! Call for Storefront Security Shutters!
An unfortunate trade-off to being in a buzzing city like New Orleans is the potential for theft. Smash-and-grab thieves often look for easy prey, breaking into unprotected businesses after hours. Fortunately,  you can scare them off with a heavy duty rolling steel security door. Texas Overhead Door has the knowledge, experience and tools to make sure your security gate is properly installed. You can sleep easy knowing that your overhead steel gates and grilles will keep your property secure.
In addition to protecting storefronts, we also offer pharmacy, pawn shop, gun store product and counter security shutters, service entrance rolling doors and loading dock doors. We also offer repair & maintenance on your existing overhead door. View our full line of commercial overhead doors here.
Texas Overhead Door serves clients throughout Louisiana, including New Orleans. Call us today at 800-715-8781 to protect your storefront!