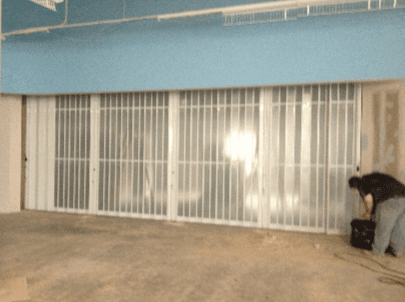 We offer some of the most secure, reliable commercial sliding doors on the market. We provide horizontal sliding doors that are perfect for keeping open front or glass front buildings secure, while allowing passers-by to view the interior and merchandise. There are also options of grilles for the doors, with tight patterns that can stop merchandise from being pulled through.
Features of Our Large Sliding Doors
There are plenty of customization options for clients who need to design the perfect door for their storefront. You can choose automatic or manual operation, visible or hidden within a closet or wall pocket, floor tracks or hinged, etc. There are many more features to choose from, just contact us and we'll provide you with details.
Benefits of Investing in Industrial Sliding Doors
There are plenty of benefits to investing in commercial sliding doors from Texas Overhead Door, including:
High-level security.
Built to desired application & specs.
Solid aluminum panels.
Smooth and easy operation.
Cost-effective,
Protection against theft,
Excellent visibility,
Large options of tight patterns, sizes, and strengths.
If you are interested in increasing the security and durability of your store or building front, contact Texas Overhead Door and we'll help you choose the best commercial sliding door for your needs. We offer sliding door installation, replacement and more.