The storefront security doors we offer are extremely dependable, sturdy enough to withstand extreme amounts of damage, from theft to floods.
Texas Overhead Door's Storefront Security Doors
The storefront doors we provide are solid aluminum, a material that has been proven to be the best in the market of storefront security measures. Some of the reassurances that come with using a solid aluminum door include:
Strongest single-wall roll-up shutter available.
Prevents break-ins.
Hurricane-approved.
Passed extreme testing
Helps prevent water damage with our solid units
Heavy Security While Remaining Highly Functional
While the storefront security doors we provide the highest level of protection, we don't sacrifice function in order to maintain the high safety standards. While the security doors can withstand hurricane weather, they remain surprisingly functional, easy to use, with customization options that allow them to fit in with the aesthetics of your store. Customization options include:
Variety of styles, including see-through, providing the optimum level of protection while allowing merchandise views.
Operation can be manual or motorized.
Wide array of color choices.
Strong aluminum curtain profiles.
Great for malls, convenience stores and general retail
Secure and strong
Quick and easy operation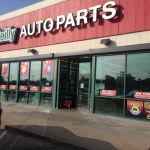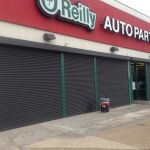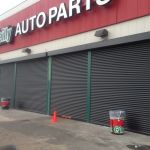 Several other options include: Clear profiles, Rolling Grilles, Side Folding and Security Screens. Let us know your specifications and we can install the protection you need!