Texas Overhead Door's edge-of-dock levelers are ideally suited for when pit levelers are not feasible. We've selected among many the MD-CH Edge-of-Dock Series which operates on a hydraulic system providing quiet, smooth, and long term service. The rated capacity is 30,000 lbs. Optional products include wheel chocks, communication and vehicle restraints systems.
Features of Our Edge of Dock Levelers
A few features include: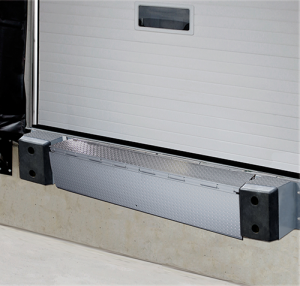 "Deck- Flex" compensates for (out of level) truck beds.
Single "touch of a button" (operator has constant control).
Self-storing upon truck departure.
5" above and 5" below dock level.
Dual hydraulic cylinder.
Greased fittings to minimize operational friction.
Optional rip handle for use as a maintenance stand.
Two molded rubber bumpers which bolt onto heavy-duty steel block extensions, helping to protect dock and your building from damages.
Texas Overhead Door's edge-of-dock levelers are affordable, easy to operate, and come with a quick installation!
Mechanical Dock Leveler from Texas Overhead Door
We also provide industrial customers with our mechanical edge-of-dock DL Series, which includes the following features:
Rugged and economical alternative to pit-levelers.
Standard for the industry – more of these than all others combined.
Low initial cost – maintain properly for longer life of the unit, and it will out-perform its price.
High-strength construction.
66", 72" and 78" deck widths.
CIR capacities 20,000 lbs, 25,000 lbs and 30,000 lbs.
Dual-extension spring lift mechanism.
Dock bumpers protect the deck pate & building from the trailers
We also offer the TS, NL, HED, HNL and Top of Deck Series. Wider decks, larger weight capacities, "NeverLift: Technologies," and advanced hydraulic systems are a few of the components you will want to ask us about. Don't hesitate to contact us and let us advise you on the proper series to fit your applications.