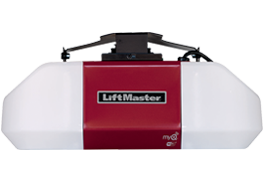 Choosing Texas Overhead to handle your garage door opener installation means that you can take advantage of some of the features that our LiftMaster openers bring to the table!
For example, with a Battery Backup system in place, you won't lock your vehicles inside the garage or prevent them from entering in the first place.
With remote access, you have the freedom to open and close doors, turn on lights or get updates when your door is opened or closed, all when you happen to be away from home.
Contact Us for your Garage Door Opener Installation today!
Professional Garage Door Opener Installations
Regardless of the circumstances surrounding this particular situation, choosing to handle a garage door opener installation on your own isn't something you want to try.
The reason is mostly due to all of the technical aspects of such installations. You may be able to handle the basic portions of this job, yet performing the fine-tuning to get it just right is something that should only be handled by professionals.
For one thing, knowing the difference between the different drive types can end up being important. Each has their own particular value. Those who prefer the quiet opening and closing of a door should look into openers with belt or chain-drives, which is what we offer at Texas Overhead Door.
Our LiftMaster units have the added benefits of also saving on your energy bills.
Those with older garages may have a door that continues to work just fine, yet those still using openers that were installed before 1993 might be compromising their family's safety.
Our openers have photo sensors that offer an additional layer of protection, so that might mean it's time to consider a garage door opener replacement.
Choosing the Experienced Professionals
Texas Overhead Door has been around since 1986, so we pretty much know everything there is to know about residential garage doors.
Depending on your particular situation, you might be in line for a garage door opener replacement. If that's the case, give us a call and let us handle your garage door opener installation.
It will be done promptly and professionally, and at a competitive price. Texas Overhead not only replaces and installs openers, but we sell and repair them as well. Contact us today!