To protect people and property from fire, we offer fire safety and smoke control doors and shutters. With our fire doors, smoke control features are also an option.
How Our Commercial Fire Safety Doors Work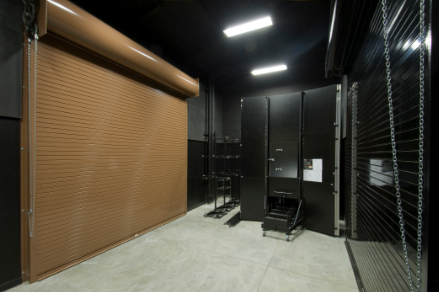 Our commercial fire doors are designed to close in the event of a fire, a feature that is wired into the alarm system. A quick telescoping closing action offers quick protection and preservation, providing a greater level of safety than other shutter doors. When your business is under threat from heat and smoke, you don't want to worry about the reliability of your fire safety doors, so we make sure to combine sleek design with strong performance on our commercial fire doors. The compact unit glides smoothly and tightly shut, quietly and dependably providing another layer of protection against heat and smoke damage.
We Can Test & Repair Your Existing Fire Safety Doors
If you've experienced heat, smoke, or other damage to your fire safety doors, we can repair them! You can choose between the options of replacing the entire door or simply replacing the damaged panels, depending on how much repair is needed. We have expert technicians who can efficiently switch out the individual panels on your fire shutters and doors, so if you'd rather not replace the entire unit, don't worry, we can make it happen! As we said before, you shouldn't have to worry about the dependability of your fire safety doors, so we offer quality and safety testing.
Texas Overhead Door's Fire Shutters Come With Many More Features
We've got a lot more features included in our fire safety door products and services, including:
Range of color options including stainless steel.
Motor, chain, crank, manual operation.
Built in battery backup.
50,000 life cycles (standard).
Available for 4 hour, 3 hour, 1-1/2 hour, and 3/4 hour ratings.
Exit bars on both sides of door.
For more information on our various rolling steel doors, feel free to check out their specific category web pages:
If you'd like to speak with one of our commercial door experts or are interested in setting up an annual quality testing service for your fire safety doors, contact us!