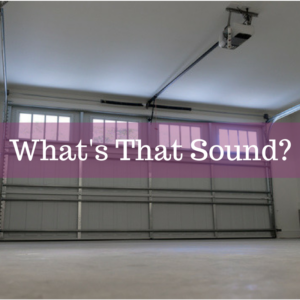 During the course of its use, a garage door moves up and down in a way that shouldn't require a second thought from the person using this structure. That's because the garage door noise that reaches the ears offers a boring consistency which indicates that everything is just fine with its operation.

However, problems can develop when the garage door sound you hear is a pronounced noise that clearly indicates the presence of a problem. Getting this issue fixed means finding garage door repair DFW residents can trust. Plus, knowing when to make that call and determining the source of the problem is something that's triggered by a particular sound.
Listed below are some unique types of garage door noise that can be detected:
Creaking and Squeaking
Lubrication can be a garage door's best friend due to the fact that it allows for the door to easily move up and down. Different areas that need lubricant include the hinges, bearings and tracks. While this is something that can be handled by a homeowner, the level of maintenance may be sporadic or end up using too much lubricant.
In the latter case, that can lead to buildup that can cause other issues, so having regular maintenance can help the more expensive types of garage door repair DFW residents know all too well.
Rattling Like a Chugging Train
The sound of a chugging train may elicit nostalgic memories for some, but for a homeowner, it can be a sign of impending problems. That's because the rollers that help the garage door move up and down may very well be worn out. The first impulse by a homeowner may likely be to handle the repair on their own, which isn't a good idea. The reason is because you can end up turning what's a minor fix into a major repair.
Noisy Motor
The motor on a garage door naturally makes noise, but when that garage door sound becomes noticeably annoying, a clear problem exists. It could be an issue with the bolts on the motor becoming loose or the onset of a much larger problem.
Ignoring it won't make the issue go away, which means contacting professionals in the field that can quickly detect the problem. The bolt issue is something that can often be avoided through regular maintenance.
Snapping
When you hear a loud snap, it usually means that a torsion spring has broken. This is something that's inevitable given the heavy lifting that's done over a lengthy period of time. Having regular maintenance performed can help extend the life of that spring, since periodic adjustments can be made and your service professional can detect a spring that's become worn.
Handling this particular area is something that only a professional should do, given the potentially fatal consequences that can occur with someone who tries to handle such repair on their own.
Texas Overhead Door has the professionals that know how to differentiate between garage door noise that requires some simple maintenance and a garage door sound which could indicate major trouble ahead. Texas Overhead is the company for garage door repair DFW residents have come to implicitly trust with these type of problems. Contact us today.