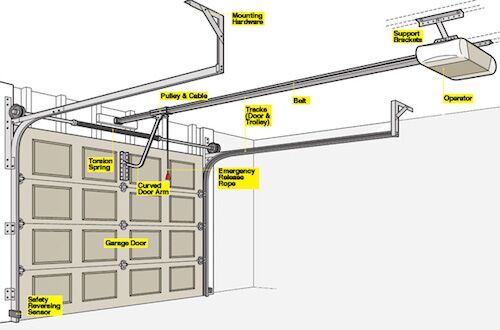 Overhead garage doors, whether they roll up in sections or swing up in one piece, operate on spring tension. The door moves on metal tracks on the garage walls, and a heavy spring or springs provide the power. In most cases when the door doesn't work easily, repairs are fairly simple for our technicians at Texas Overhead Door.
For more than 28 years, we have been a favorite choice for locals in the Fort Worth metro area. Having installed and repaired thousands garage doors; we asked our garage door repairmen the four most common garage door problems they encounter. Below are the top four garage door problems and possible solutions.
1. Garage Door Sticks
There are a couple issues that could present themselves if the garage door is sticking. If you have a remote garage opener, check batteries, sensors and switches first. If you open the garage door manually, check for obstructions in the wheel track. The tracks may also be dirty, clogged or out of alignment. The metal rollers and hinges may need lubricating.
2. Garage Door is Uneven
The easiest way to solve and unevenly opening garage door is by removing an obstruction or debris in the tracks where the wheels run. Then check to see if the cable is frayed. If it is then replace cable. Lastly, look for worn extension spring cable pulleys, and replace any worn pulleys.
3. Remote Control Garage Door Opener Isn't Working
Check the batteries and switches to make sure the device is powered up. If the batteries are weak then the garage door might have problems opening or closing correctly. Misaligned, dirty or defective photo eyes may also be cause for the garage door not opening. Realign the photo eyes and clear any debris on the tracks.
4. Garage Door Makes Loud Noises When Opening or Closing
Loud screeching, grinding or squealing noises coming from the garage door signifies a problem with dirt or debris in the track or lack of lubrication If it's a squeaking noise then you may have dry rollers, bearings, hinges in which case you need to lubricate them. If it's a scraping or scratching noise then it a tilted bearing plate. Try to straighten it up or replace the bearing if needed.
Texas Overhead Door Garage Door Repair
Trust Texas Overhead Door to diagnose and repair any problems that you're having with your garage door. Our technicians service all parts of the door, including springs, cables, tracks, rollers and hinges. We understand the need for fast service to get your door system up and running. Additionally, we can meet your needs for replacement panels when your door is damaged by impact or weather. Plus, we proudly offer 24 Hour Emergency Service for problems that come up after normal business hours.
Because we are a local Texas garage door company, we like to think of our customers as neighbors and friends, and our employees are truly like our family. We will always go the extra mile that big box stores won't. We offer 24/7 emergency services and pride ourselves on being prompt and dependable. Texas Overhead Door is dedicated to the satisfaction of our Fort Worth customers at every step.
Contact us to schedule a time for us repair your garage door in the Fort Worth area.
7 Responses to "4 Popular Garage Door Problems"