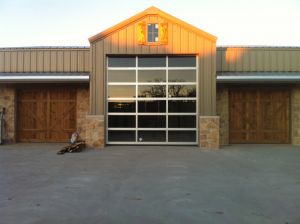 On top of being a major investment, our boats and RVs hold a special place in our hearts. Generally, most people make use of their RVs and boats during the summer months, with warm weather calling for long road trips and fun days out on the lake.
However, once the colder weather starts to roll in, we need to properly store these vehicles for the winter months ahead.
As most of us know, in order to best look after your RV or boat, it's important to keep them indoors to protect them from weather-related issues, as well as theft and damage. Now, as you can imagine, your storage needs will be different to that of regular-sized vehicles. For the sake of your beloved boat or RV, it is a good idea to invest in a Recreational Vehicle Garage Door.
While it may seem easier to store your motorhome or boat outside your home or at a storage facility, there are many benefits of keeping your RV or boat at home with a specialized garage door to protect it. Below we take a look at some of the most important benefits that come with installing a Recreational Vehicle Garage Door:
Three Reasons To Install a Recreational Vehicle Garage Door:
Your RV or Boat is More Readily Available For Spontaneous Trips
Even though you may mostly use your boat or RV during the summer months, that's not to say you won't want to take either for a spin when you the feeling strikes, right? Storing your vehicle at home means you don't have to drive miles to collect it from a storage facility and sign it in and out. This means, by storing your vehicle at home, you can plan as many spur-of-the-moment trips throughout the year.
A Recreational Vehicle Garage Door Helps To Save on Long Term Costs
While installing a Recreational Vehicle Garage Door will cost you money initially, you will save money in the long run. You'll also cut costs by not having to pay the monthly storage facility fees, plus by not leaving your vehicle outside for months and months at a time, you'll drastically cut down on various repair fees.
A Recreational Vehicle Garage Door Enables Better Long Term Care
Another important benefit to consider when thinking about installing a Recreational Vehicle Garage Door is the better long-term protection it will provide your vehicle. A garage door will help protect your RV or boat, sheltering it from being exposed and damaged to the various weather and outdoor elements. Too much rain, sun, or snow can harm your RV and shorten its lifespan.
With over 30 years experience in garage door installations of any kind and any size,
Texas Overhead Doors also specializes in Recreational Vehicle Garage Doors. So if you're looking for a garage door for your RV or boat house garage door, contact Texas Overhead Doors today. Proudly serving the Dallas Fort Worth area, trust the brand that has a long-standing legacy of expert technicians and unmatched customer service.
Contact Texas Overhead Door for all your garage door needs. Call us today for a free estimate.
2 Responses to "Three Reasons to Install a Recreational Vehicle Garage Door Dallas/Ft Worth"