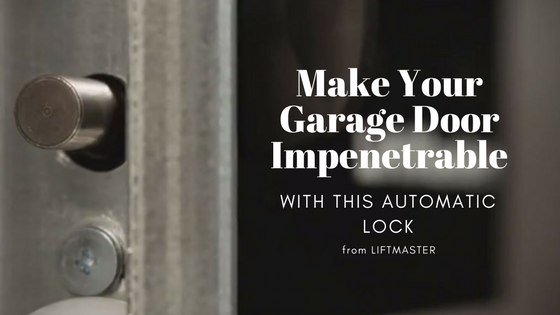 Various automatic garage door openers are guaranteed to keep your home safe and secure. As some of them are virtually impenetrable, you are sure that you can leave your house and come back with nothing being taken. Getting the best garage door security for your homes is the main goal for most homeowners or those who have commercial buildings and would like to guarantee their clients that their vehicles, equipment or valuables are in safe hands.

You can give a try to the brand new Automatic Garage Door Lock, made by the professional installing garage door openers and solutions experts, LiftMaster. This garage door lock is a new accessory deadbolt made for your garage like no other available in the market. The extra layer of protection that the deadbolt offers you when you are away from home is something that most garage owners are going to love.
There are more than 70% of homeowners that use the garage as their entryway to their homes. Meaning, making sure that the garage is secure and impenetrable is a top security priority mainly for new and existing homeowners.
The LiftMaster Automatic Garage Door Lock makes your garage door quite literally impenetrable from people trying to sneak in and steal. The automatic garage lock makes it quite hard as it automatically engages and disengages when you open and close your garage.
Automatic Garage Door Lock Benefits
When the door is engaged, an audible click is heard

You are assured that your garage is locked and secure

Y

ou can close and open your garage with the click of a button from your phone and know if someone has opened it

You can download the LiftMaster MyQ app onto your smartphone, which will integrate seamlessly to your Door Lock

You can receive notifications on whether your garage door has been closed, or left open

Homeowners can close and keep their homes secure wherever they are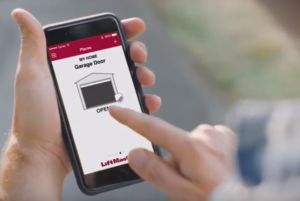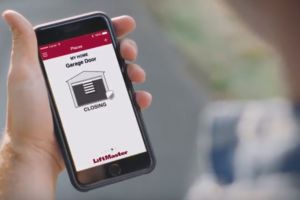 Another benefit that you get from having LiftMaster's garage door opener, you have a storm defense. No matter how nasty the outside is, you are guaranteed to be protected from the storm. Your vehicles and belongings are likely to go unscathed once the storm ends.
Garage Door Security and Peace of Mind
Your door lock works with select LiftMaster Auto Lock Capable Garage Door Openers. You also get a battery back up belt drive WiFi. This automatic garage door opener is on the top of its line and you are guaranteed that you have the best garage door security that money can buy. With state-of-the-art accessories available for commercial and residential uses, you are sure that LiftMaster's products will fit in your lifestyle.
LiftMaster have been making security products for more than 50 years. They have engineered cut-edge products that are made to deliver top of the line garage door security. According to John Villanueva, who is the Vice President and General Manager at Residential Access Solutions, LiftMaster's new accessory makes homeowners, such as yourself, assured that their garage is safe and secure whether they are home or away.
There are various LiftMaster's Automatic Garage Door Lock such as the 8550W Elite Series, 8360W Premium Series and the 8587W Elite Series automatic garage door opener.
About Us
We as Texas Overhead Door, Burleson Texas are here to cater to your garage door problems. Texas Overhead Door is specialized in garage door installations, and we have more than 30 years of experience. We can do installations for commercial and residential clients. We are an authorized installer and supplier of LiftMaster automatic garage door openers.
Get in touch with us to get advice or get the best garage door security system installed, and we will be there to help you make your home an impenetrable fort. We are happy to help.

6 Responses to "Make Your Garage Virtually Impenetrable With This Automatic Garage Door Lock"