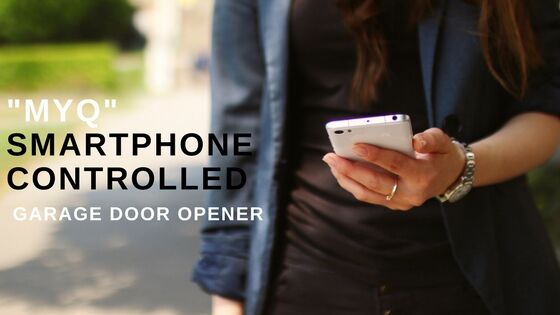 MyQ Smartphone Control is the top smart home app used to both monitor and control garage doors. This smartphone controlled garage door opener allows people to check up on, open and close their garage door using their cellphone.
Whether you're at work, at play, it's comforting to know you have the safety and convenience of controlling your garage door by simply pressing a few buttons on your phone. Using these WiFi garage door openers means when it's dark or the weather is bad, you can open or close your garage door without leaving your home or vehicle.

Smart Garage Door Opener Features:
The smart garage door opener offers a simple way for you to know when the garage door opens, closes and is secure.

The garage door control with MyQ app is done using your cellphone no matter where you are

You can set the garage door to opening and closing schedule and get notifications on the status of the garage doors from anywhere

Activity alerts let your smartphone know anytime someone opens or closes your garage door

You can check the activity log at any time

It controls up to 2 garage openers and can be connected to up to 16 devices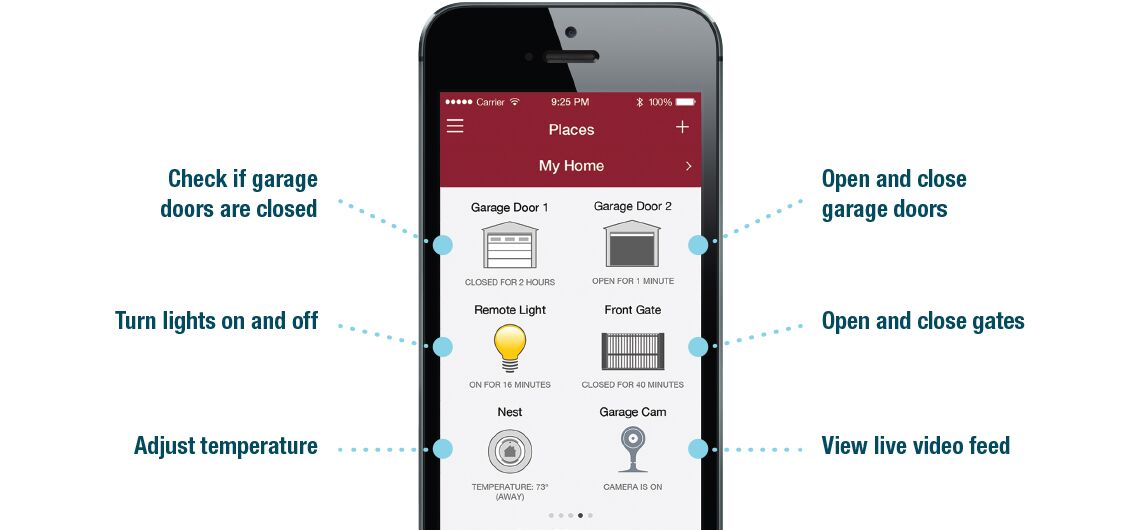 For seven out of ten homeowners in the United States, their home's primary access point is the garage door. Being able to open garage doors with a smartphone offers both safety and convenience.
You no longer have to risk hiding keys outside your home so family and friends can check on your home while you're away. When they get there, you can use your smart garage door opener on your phone to open the door for them and close it when they leave from wherever you are. This enables you to monitor and control who enters your home and when if you aren't there. If you have young drivers in your home, the MyQ app will let you know any time they take the car in or out the garage.
With the MyQ smartphone controlled garage door opener you can program the garage lights to go on or off or the garage door to open or close at the time you designate. And you can change the schedule anytime you please. You'll never again have to wonder if your garage door is open or closed. MyQ smart garage doors definitely add to your peace of mind.
Integration with Liftmaster and Chamberlain Door Openers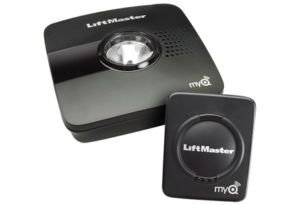 The technologies of Chamberlain and Liftmaster garage openers are combined to give you the power to open garage doors with a smartphone from anywhere at any time.
This powerful, convenient integration of technology and security gives you more control over who or what enters or leaves through your garage doors and when.
MyQ enabled smart garage door openers are designed to keep you in control and aware of who has access to your home through your garage doors. Plus, you can add smart lighting for additional safety and convenience. LiftMaster products let you easily replace or upgrade your garage door opener with MyQ technology.
Integration With Major Garage Openers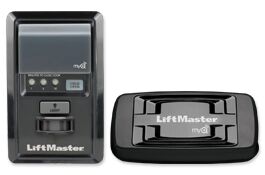 WiFi garage door openers are easy to install and use, reliable, quiet and stylish. You can even add additional enhancements like voice control as well as geofence closing with the MyQ app.
Having a smartphone-controlled garage door opener can help to make your home safer and more secure. If you leave your garage door open, all you have to do is push a few buttons on your smartphone and the MyQ app will signal your smart garage door opener to close the doors for you.
This saves you time while helping to keep your home safer. Perfect for homes or businesses, it was named one of 2016's best products.
Texas Overhead Door is an authorized LiftMaster garage opener supplier and installer. Reach out to us if you have any questions or you would like to set up an installation.