The value of having a garage in an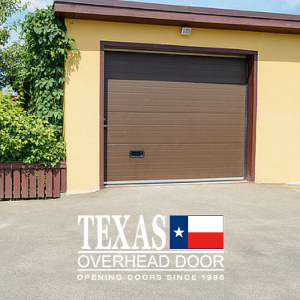 area like North Texas is that it allows a resident to keep a vehicle out of the brutal summer sun. So making sure a garage door is working smoothly should be a regular consideration for a resident, with preventative maintenance the least expensive way of limiting any garage door repair that may be needed. Below are 10 examples of how to keep residential garage doors in good working order.
Keeping the Ears Open
Merely listening for unusual sounds is an easy way to determine if any problems exist evident, it's readily apparent that some garage door repair should be done. Ignoring such sounds will likely result in much worse damage and a higher repair bill.
Visual Check of the Door
Make sure that there's no damage to a door or checking for any developing issues, such as warped doors from water damage or rust in the case of steel doors. Keeping the door itself clean also helps present a more aesthetic appeal, and the cleaning can be addressed by simply using an all-purpose cleaner.
Clearing Debris
Over a period of time, things like dust, dirt and other debris will collect in the area of the tracks, which can result in problems developing. In some cases, maneuvering within the tracks to get at the issue at hand can be a tricky proposition, which means that it might be a safer idea to have a professional handle the job.
Checking the Reverse Mechanisms
By placing something (usually a piece of wood) on the ground in the path of the door, and then pressing the garage door opener, the door should strike this item and automatically come back up.
The photo eye can also be tested in simple fashion by merely waving a hand or foot in the path of the beams on each side of the garage. That should commence the reversing of the door.
Inspecting Rollers
The brackets that allow the rollers on a door to run smoothly can become loose over time, and should be checked. While they can tightened with a mere socket wrench, the task can be often be complicated enough that safety issues may deem having a professional look at it instead.
Consistent Lubrication
Inevitably, hinges, tracks and rollers start to make noises like squeaks, lubrication is in order. The use of lithium grease or silicone can help eliminate at least part of the problem, which is something a professional will either have for sale or use as part of routine maintenance.
Testing the Springs
Improper balance for residential garage doors can result in a shorter lifespan for garage door openers. Simply disconnecting the opener and pulling the door halfway up can determine if issues exist. Adjusting the springs can be dangerous, which is why only professionals should handle those duties.
Looking for Damaged Cables
Garage door openers are able to lift doors due to high-tension cables that can become broken or damaged at some point. Trying to fix the issue on your own isn't recommended, since the force from them can cause serious injury or even death.
Checking the Roller Chain
The chain on the garage door opener should be tight, but not too tight, otherwise the door will be unable to drop properly and cause premature wear on the rollers. On the flip side, a chain that's too loose will reduce the power to either open or close.
While it's possible to do the adjustments by yourself, this task requires you to temporarily remove the wires attached to the power outlet. From there, using a wrench to either loosen or tighten things up in the next step.
Assessing the Weatherstripping
One of the more subtle parts of the door is the weatherstripping at the bottom of the door. It helps keep out rain and debris, but over time, it can become worn out and need replacement. While the task of doing so can be done by a resident, it can be complicated if you're not familiar with the routine, which is why such things may be better handled by experienced personnel.
The Easy Answer
Garage door openers are often a valuable asset, especially during times of inclement weather. Of course, for them to work, residential garage doors have to be working properly. So if issues have developed that are too complicated or potentially dangerous to handle or you just don't have the time to do any garage door repair on your own, contact the professionals at Texas Overhead Door to make life easier. They're now in their 30th year of business and can be reached at 1-800-715-8781.
12 Responses to "10 Preventive Maintenance Tips for Garage Doors"