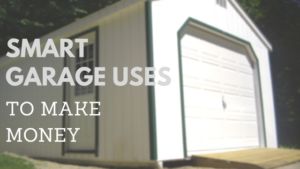 Few people would turn down an opportunity to put a few extra dollars in their pocket. Using a little imagination and some elbow grease you may find a gold-mine in your own backyard.
There are a number of ways to make money with empty garage. The possibilities are only limited by your imagination.
These are just a few ideas describing how to use empty garage.

Research
Take some time before you leap into any project. Open your eyes and take a fresh look at your community. Is there a need that is not being met? Once you have identified a need it is important to research the legalities of a business idea. Depending on your enterprise there may be zoning issues or required permits.
Rental
If you want an easy way to use garage to make money renting is a relatively hands-off approach to earning extra income. Storage space is in high demand in most communities. The renter has a place to store his unused treasures and you collect a monthly fee. A win-win situation for both parties.

Everyone loves a bargain and garage sales are a popular way to recycle unwanted and gently used items. If you do not have enough items to have your own sale rent out space for a large or multi-family garage sale. You could charge a flat fee for the rental or agree on a percentage of the sales.

Other rental options may require more consideration. Your space may be a godsend to a carpenter who has no place to perform his craft. However, before jumping into this type of arrangement it is important to decide if this is a good fit for you and your neighborhood. Power tools require electricity. Is your garage energy efficient and properly wired to safely handle their use? Carpentry can be messy and noisy. Will this become an issue for you or your neighbors? Be sure to have an open dialogue with your potential renter before forming an agreement. Setting definitive guidelines may prevent future disagreements.
Art Studio
Every budding Picasso longs for a space to create the world's next masterpiece. An art studio may be a good option on how to use empty garage. Consider the space a blank canvas. Imagine a painter's studio, a crafter's workshop or a writer's sanctuary. The possibilities are endless. Invite fellow artists to share the space and designate a section as a gift shop to sell your creations. Harness your creativity to use garage to make money.
Party Sales
You may remember the Tupperware parties of yesteryear. This basic sales concept continues today. Independent contractors sell a multitude of products ranging from cosmetics, jewelry, lingerie and more by inviting potential customers to a party. Your empty garage could be the perfect space for your own business or an attractive option for a host who is hesitant to use their own home as a party location.
Considerations
Do not allow the dream of extra money overshadow reality. Determine if your plan requires an initial investment. Is the garage ready to move into or will it require aesthetic or structural alterations to be functional? This may include adding windows, new garage doors with insulation for noise and climate control. Check with your insurance company to determine if your business will be covered by your household insurance or will it require an additional policy. Weigh these costs against your projected earnings to decide whether your business plan is feasible.

Remember, life offers no guarantees. Sometimes even the best ideas fail. However, if you are willing to spend the time and effort required you can make money with empty garage.